A LUMP OF COAL...
---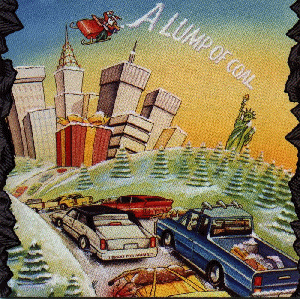 ---

1991 - First Warning - 72705-75702-2
| Track | Title | Duration |
| --- | --- | --- |
| 11 | Twas the Night Before Christmas | 4:08 |
Henry Rollins- sound effects, voice
Joe Cole- sound effects
Produced by Henry Rollins for Cole/Rollins Productions; engineered by Rae DiLeo at Salami
Studios, Los Angeles, CA. Traditional, arranged by Henry Rollins. Henry Rollins appears
courtesy of Imago Recording Company.
---
Dave's Comments:
Rollins reads this classic piece, which is given a sinister tone by Joe Cole's sound effects, which transform the scene from a snow covered suburban home to an urban warzone. The piece is ended with a falling bomb and explosion, as is MILES JAM on various DISCONNECT singles. This track also appeared on another Christmas compilation, O Come O Ye Faithful, released 5 years later.
---
David Tenenbaum (11.17.02)