AUDIO AIRSTRIKE CONSULTANTS - '86-'88
---
---

2001
Snapper Music
SMABCD847
---
DISC ONE - HOT ANIMAL MACHINE (& Drive By Shooting EP)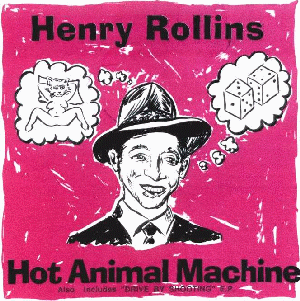 | Track | Title | Duration |
| --- | --- | --- |
| 1 | BLACK AND WHITE | 3:11 |
| 2 | FOLLOWED AROUND | 2:47 |
| 3 | LOST AND FOUND | 2:06 |
| 4 | THERE'S A MAN OUTSIDE | 3:13 |
| 5 | CRAZY LOVER | 2:33 |
| 6 | A MAN AND A WOMAN | 3:59 |
| 7 | HOT ANIMAL MACHINE 1 | 3:01 |
| 8 | GHOST RIDER | 2:27 |
| 9 | MOVE RIGHT IN | 2:42 |
| 10 | HOT ANIMAL MACHINE 2 | 3:32 |
| 11 | NO ONE | 6:03 |
| 12 | DRIVE BY SHOOTING | 2:01 |
| 13 | EX-LION TAMER | 1:54 |
| 14 | HEY HENRIETTA | 3:00 |
| 15 | CAN YOU SPEAK THIS | 2:00 |
| 16 | I HAVE COME TO KILL YOU | 5:21 |
| 17 | MEN ARE PIGS | 2:38 |
| 18 | THE ROAD SONG | 2:36 |
| | Total Time | 55:04 |
---
DISC TWO - LIFE TIME
| Track | Title | Duration |
| --- | --- | --- |
| 1 | BURNED BEYOND RECOGNITION | 2:56 |
| 2 | WHAT AM I DOING HERE? | 3:21 |
| 3 | 1,000 TIMES BLIND | 2:57 |
| 4 | LONELY | 4:16 |
| 5 | WRECK-AGE | 5:33 |
| 6 | GUN IN MOUTH BLUES | 8:57 |
| 7 | YOU LOOK AT YOU | 3:31 |
| 8 | IF YOU'RE ALIVE | 2:42 |
| 9 | TURNED OUT | 5:57 |
| 10 | DO IT | 2:43 |
| 11 | MOVE RIGHT IN | 7:27 |
| 12 | NEXT TIME | 3:20 |
| | Total Time | 53:40 |
---
DISC THREE - HARD VOLUME
| Track | Title | Duration |
| --- | --- | --- |
| 1 | HARD | 4:06 |
| 2 | WHAT HAVE I GOT | 4:58 |
| 3 | I FEEL LIKE THIS | 4:26 |
| 4 | PLANET JOE | 4:18 |
| 5 | LOVE SONG | 6:22 |
| 6 | TURNED INSIDE OUT | 6:24 |
| 7 | DOWN AND AWAY | 8:20 |
| 8 | TEARING | 4:58 |
| 9 | YOU DIDN'T NEED | 5:11 |
| 10 | GHOST RIDER | 7:23 |
| 11 | WHAT HAVE I GOT | 4:33 |
| 12 | THIN AIR | 8:21 |
| 13 | DOWN AND AWAY | 7:14 |
| | Total Time | 76:34 |
---
DISC FOUR - LIVE 1987/1988
| Track | Title | Duration |
| --- | --- | --- |
| 1 | FOLLOWED AROUND | 3:27 |
| 2 | WRECKAGE | 4:19 |
| 3 | LONELY | 3:53 |
| 4 | HOT ANIMAL MACHINE 1 | 2:40 |
| 5 | YOU LOOK AT YOU | 3:20 |
| 6 | GUN IN MOUTH BLUES | 11:12 |
| 7 | TURNED OUT | 5:40 |
| 8 | 1,000 TIMES BLIND | 3:03 |
| 9 | NO ONE | 10:19 |
| 10 | JOY RIDING WITH FRANK | 32:01 |
| | Total Time | 79:54 |
Note: Track 1 incorrectly listed as LOST AND FOUND, track 4 is incorrectly listed as HOT ANIMAL MACHINE 2
Tracks 1-4 Recorded live in Deventer, Holland (Fall 1987)
Tracks 5-6 Recorded live in Kortrijk, Belgium (Fall 1987)
Tracks 7-8 Recorded live in London, England (Fall 1987)
Track 9 Recorded live in Ravensburg, Germany (Fall 1987)
Track 10 Recorded live in Linz, Austria (1988)
---
Hello. Thanks for checking out all this music. Here's the story.
In 1986 the band I was on, Black Flag, broke up. I called my long time guitar-playing pal, Chris Haskett, and told him the news. He said that it was time to make a record and not delay. Just because we had no drummer or bass player and he was living in Leeds, Enlgand was in his opinion not the slightest roadblock. Chris summoned the help of London based drummer, Mick Green, and Washington DC based bass player, Bernie Wandell. We all converged on Leeds in the fall of 1986 and wrote a bunch of songs in a week or so. Nothing like desperation, exhilaration and fear of failure to spark the creative senses to life. We recorded quickly and cheaply at a minimal but solid studio in Leeds with engineer Geoff Clout. I didn't have enough money to pay for the multi-track tape so after we finished the mixes, the master tapes were re-used the next day after we left. The result of these recordings became the "Hot Animal Machine" album and "Drive By Shooting" EP. That's Disc One.
The following April found Chris and I playing together with the very talented Andrew Weiss on bass and Sim Cain on drums in their home turf of Trenton, New Jersey. I met them on tour in 1986 when they were the rhythm section of a band called Gone. On April 7, 1987 we had our first practice in Sim's mother's basement. We were the Rollins Band. We went on tour in May and ended up in Europe by late summer. We played and wrote sings all across the Continent and ended up that fall back in Leeds at the same studio with Geoff.
I called Ian MacKaye and asked him to produce. He flew right out and under his moving-right-along pace, we cranked out the "Life Time" album in about five days for about three grand. So much for Disc Two.
1988 found us on the road all over, as usual. Getting ready for our first tour of Australia, we were in Los Angeles and we recorded a bunch of songs that became the "Hard Volume" album. Our soundman, Theo, was the very logical choice to produce as he was in front of the band every night and knew when we were on and when we weren't. The name "Hard Volume" derived from a radio station play list I saw in Europe that we had a song on. So that's the kind of music we're playing. We were pressed for time and Theo was mixing until a few hours before his flight to Sydney. He, of course, came through. For the re-release of this CD, I have included songs that didn't make the record and some of the demo stuff that we cut earlier in the year. One song, "Thin Air", wanders into the "a bit much" department, but I think it's kind of cool. We played it a few times live and then it fell out of the set, never to return. Anyway, it's all here for your inspection and enjoyment. Disc Three - game, set, match.
This last disc here is for those of you who somehow can stand more. The tracks are live from our 1987 European tour, with the exception of the last jam, "Joy Riding With Frank", which is from a show in Austria in 1988.
I hope you get off on this era of the band. It was a lot of work getting the songs, albums and tours happening. It was a hard-working band that pulled it off under constantly strained financial, sleep and living space shortages.
At the end of the day, there's only one thing to say ... without you, there would be none of this.


Thank You ...
Henry Rollins, July 2001
---
Dave's Comments:
AUDIO AIRSTRIKE CONSULTANTS 1986-1988 pulls together the majority of the material released in the late 1980's on the Texas Hotel label, and puts it together in a 4 disc boxed set. The first 3 discs are the same reissues released on the Buddha Records label: Hot Animal Machine, LIFE TIME, and HARD VOLUME.
The Texas Hotel disc that had not been re-released by Buddha is DO IT. This is a signficant disc, in that it gives a recorded example of the Rollins Band's live sound from the late 1980's. As a substitute, the Buddha releases included INSERT BAND HERE. This boxed set brings back most of DO IT, now labelled LIVE 1987/1988. The first three tracks of DO IT were studio tracks, and those can be found on the re-release of LIFE TIME (also included as the third disc of this boxed set). LIVE 1987/1988 skips over tracks 4 through 6 of DO IT, and includes tracks 7 through 15 (as tracks 1 through 9 on this disc). Track 10 is a long jam entitled JOY RIDING WITH FRANK, which first appeared on the Texas Hotel version of HARD VOLUME, but not on the re-released version (or disc 3 of this boxed set). Tracks 1 and 4 are mislabelled on the packaging: Track 1 is FOLLOWED AROUND, not LOST AND FOUND. Track 4 is HOT ANIMAL MACHINE 1, not HOT ANIMAL MACHINE 2. While this disc is described as including '100% previously unreleased tracks', this is clearly not true, unless you regard the Texas Hotel discs as unreleased.
Special thanks to Michiel from Holland for pointing out to me that LIVE 1987/1988 is mostly DO IT.
---
David Tenenbaum (02.25.03)